Store
Vitamin D3 - Liquid drops or capsules
00012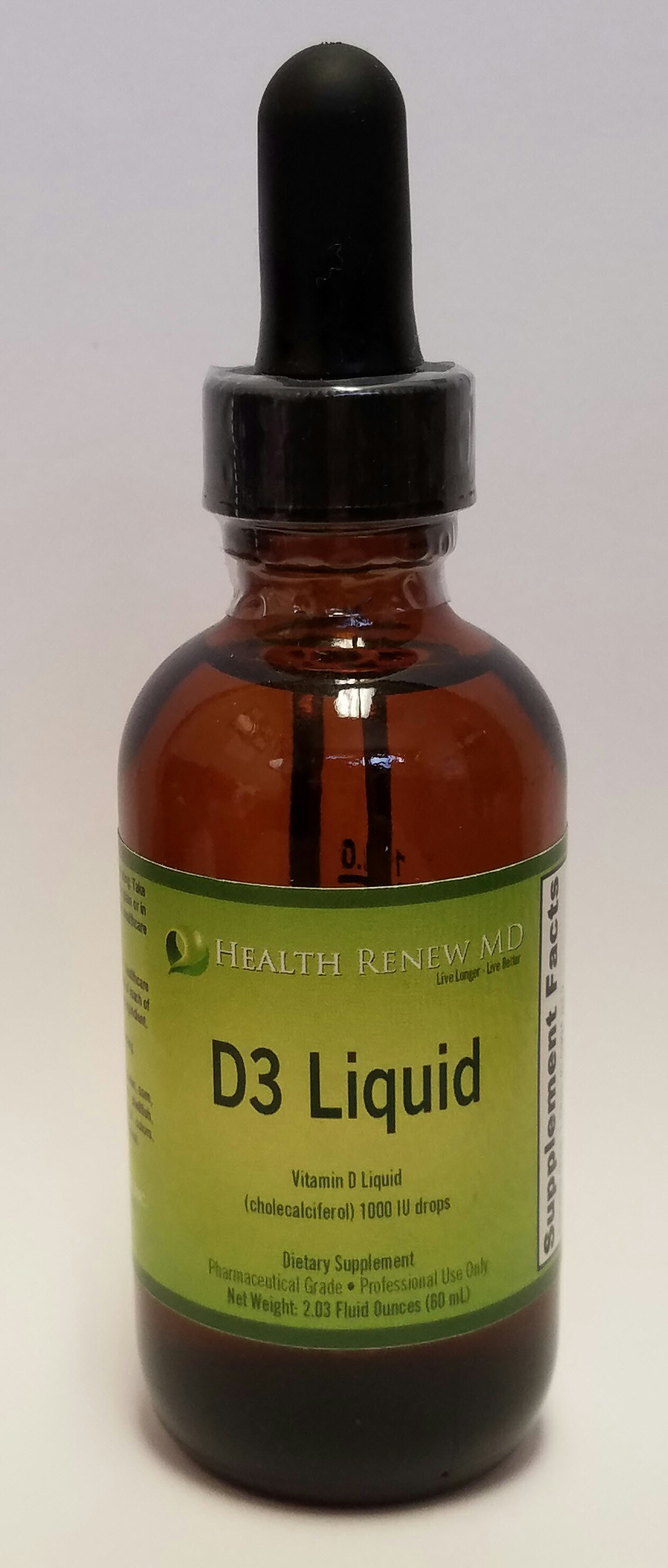 Vitamin D is synthesized in the body from sunlight. But, due to the winter season, weather conditions, and sunscreen blockers, the body's ability to produce optimal vitamin D levels may be inhibited. In fact, it has been proposed that annual fluctuations in vitamin D levels explain the seasonality of influenza. All of these factors point to the value of taking a daily vitamin D supplement to ensure optimal vitamin D intake.
Vitamin D has long provided significant support for healthy bone density. However, scientists have also validated the critical role that vitamin D plays in regulating healthy cell division and differentiation, and its profound effects on human immunity. These findings link a deficiency of vitamin D to a host of common age-related problems. The current RDA is only 400 IU. As a result of startling evidence of a widespread vitamin D deficiency, prominent nutritional scientists are calling on Americans to increase their vitamin D intake to 1000 IU per day and higher. Currently, most experts in the field believe that intakes of between 1000 and 5000 IU for adults will lead to a more healthy level of serum 25(OH)D, at approximately 75 nmol/L.
The serum reference level for vitamin D is 25 ng/ml. Research has shown maintaining a serum vitamin D level of 50 ng/mL provides the following disease incidence prevention:
All forms of cancer reduced by 35%

Breast Cancer reduced by 83%
Ovarian Cancer reduced by 17%

Colon Cancer reduced by 60%
Non Hodgkins Lymphoma reduced by 18%

Type 1 Diabetes reduced by up to 60%
Fractures, all combined reduced by up to 50%

Multiple Sclerosis reduced by 54%
Heart Attack in men reduced by 30%

Kidney Cancer reduced by 49%
Endometrial Cancer reduced by 37%
In addition, research demonstrates vitamin D3 is an immune modulator and the majority of 63 observational studies in a PubMed database search demonstrated a chemo protective role of vitamin D.
Liquid Drops Ingredients/Directions - Vitamin D3 (Cholecalciferol) 1000 IU per drop, sunflower oil, purified water. Shake well before using. Take 1- 5 drops per daily (plain or in liquid) or as directed by your healthcare practitioner. 5 drops + 5000 IU's of Vitamin D3. Refrigerate after opening.
Capsule Ingredients/Directions - Vitamin D3 (Cholecalciferol) 5000 IU or 2000 IU, Soybean Oil, gelatin, glycerin, and water. Take 1 capsule daily with meal.
Quality and purity – does not contain wheat, gluten, corn protein, yeast, soy, dairy products, artificial colors, sweeteners or preservatives.
Caution: Individuals consuming more than 2,000 IU/day of vitamin D (from diet and supplements) should periodically obtain a serum 25-hydroxy vitamin D measurement. Toxicity is very unlikely in healthy individuals at a dose of less than 10,000 IU. Vitamin D supplementation is not recommended for individuals with hypercalcemia (high blood calcium levels). People with kidney disease, certain medical conditions (such as hyperparathyroidism or sarcoidosis), and those who use cardiac glycosides (digoxin) or thiazide diurectics should consult a physician before using supplemental vitamin D.
Type / Strength
Liquid Drops (1000 IUs/drop) (0) Capsules (5000 IUs) (1.7) Capsules (2000 IUs) (-5)
USE THIS WEBSITE ONLY IF YOU AGREE TO THE FOLLOWING TERMS The contents of this website are the opinions of Health Renew MD unless otherwise noted. The information on this website is not intended as personalized medical advice and is not intended to replace the relationship that you have with your primary care provider. Any decisions you make with regard to your daily choices and medical treatments should be made with the help of a qualified health care provider